Mentally I'm always ready for summer, but my pale Irish skin and closet full of sweaters are not. Here we are though in all it's humid glory. Time to slap on some self-tanner (currently rotating between St Tropez and Rodan and Fields c/o Megan Bilancia) and get the ladies together for another Sip and Shop Party at Evereve (Arbor Lakes), because shopping is more fun when you turn the entire store into a party and everything is discounted.
Here's a quick breakdown of the top sellers: 
This is me in my happy place grateful for the community of strong, supportive women surrounding me!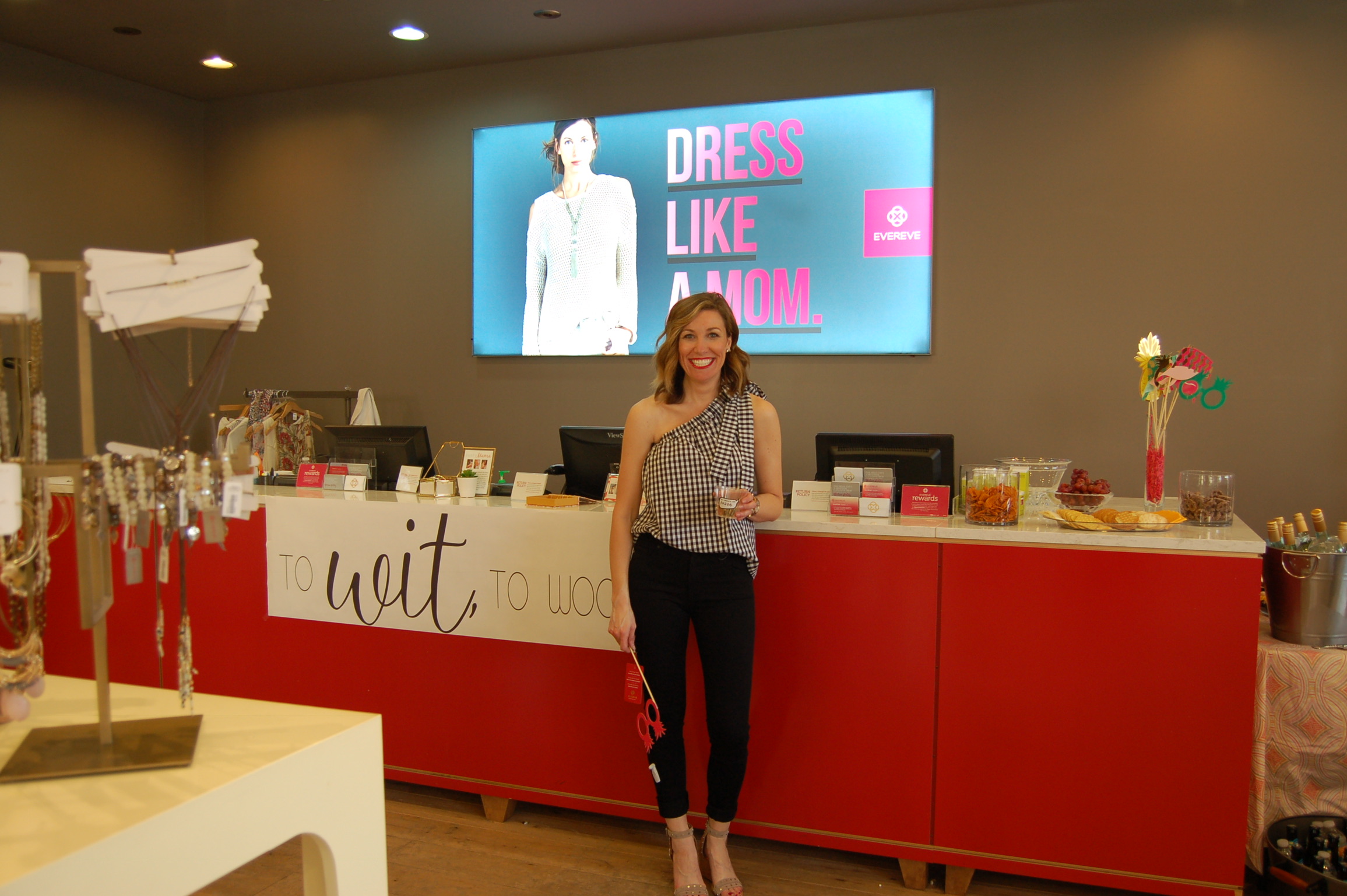 Top: Elan 'Gingham One-Shoulder' (I didn't end up buying this top because I already own this gingham blouse, but I haven't stopped thinking about it so I will be back for it. I mean, you can't have too much gingham, right?)
Jeans: AG 'Farrah Skinny' (If you want to look tall and thin, Farrah is your girl! They are perfection in a high rise. I also own them in a basic blue denim because I just can't get enough. Front tuck everything into these suckers and you'll have legs for days!)
Sandals: Dolce Vita 'Stud Suede Wedge  (the ankle strap hits at just the right spot that they flattered everyone. The only reason I didn't buy them is because I slipped into the Dolce Vita 'Pacey Flat' <more colors and sizes here> at the end of the night and refused to take them off so they were so comfortable!)
Lips: Lipsense 'Rhubarb' – Long Lasting Lip Color by Jenny (side note: I was face down in a chair massage for 15 minutes and there wasn't a smudge of lipstick on the paper when I stood up. If you haven't tried it, try it.)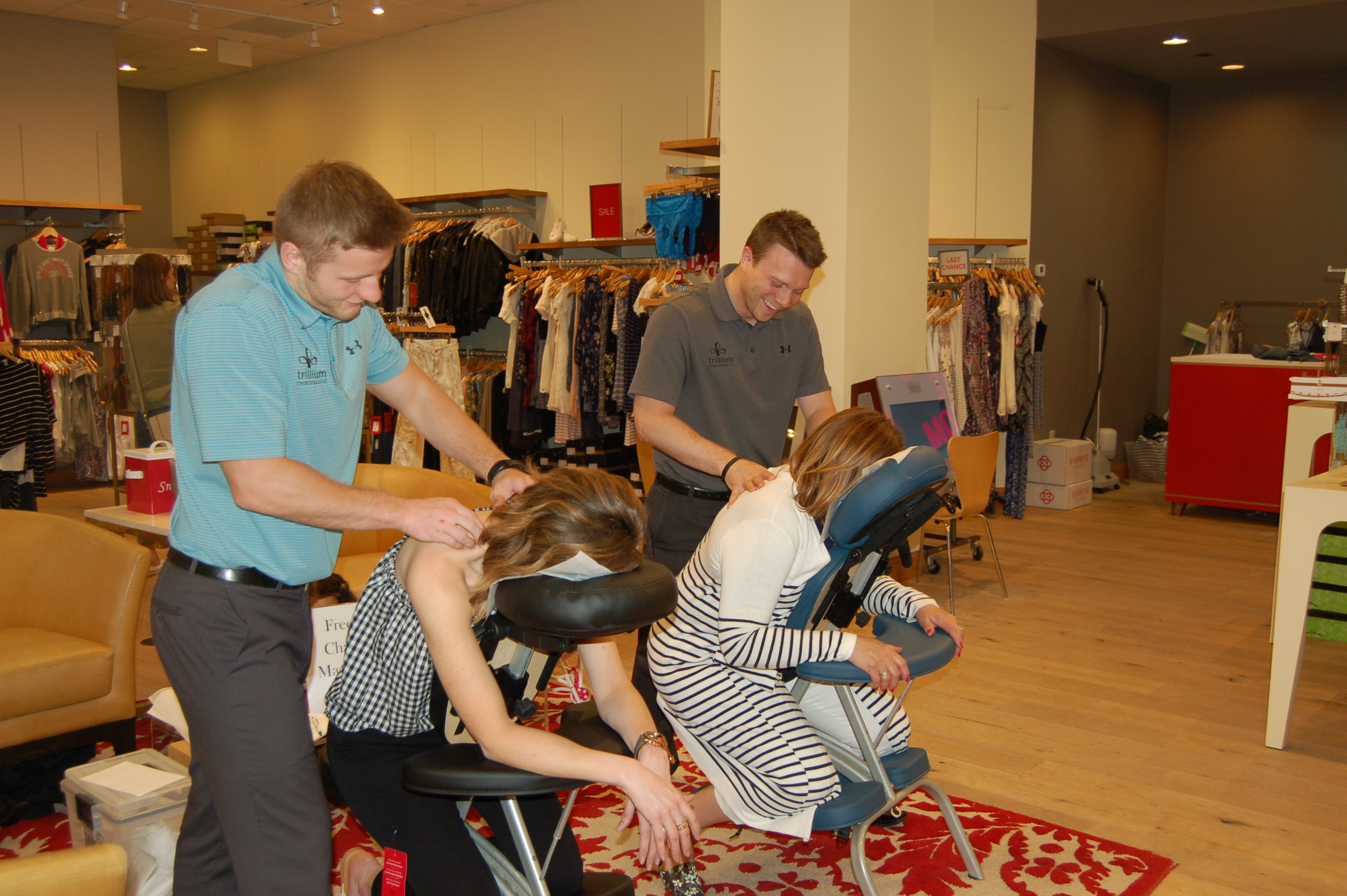 Special thanks to the Wellness at Work team for setting us up with FREE chair massages c/o Trillium Chiropractic. I have the back of a 65 year old (I wish that was a joke) so Dr Scott and Dr Marcus will be seeing a lot of me now that I am in their care. Go easy on me, Gentleman, I'm fragile.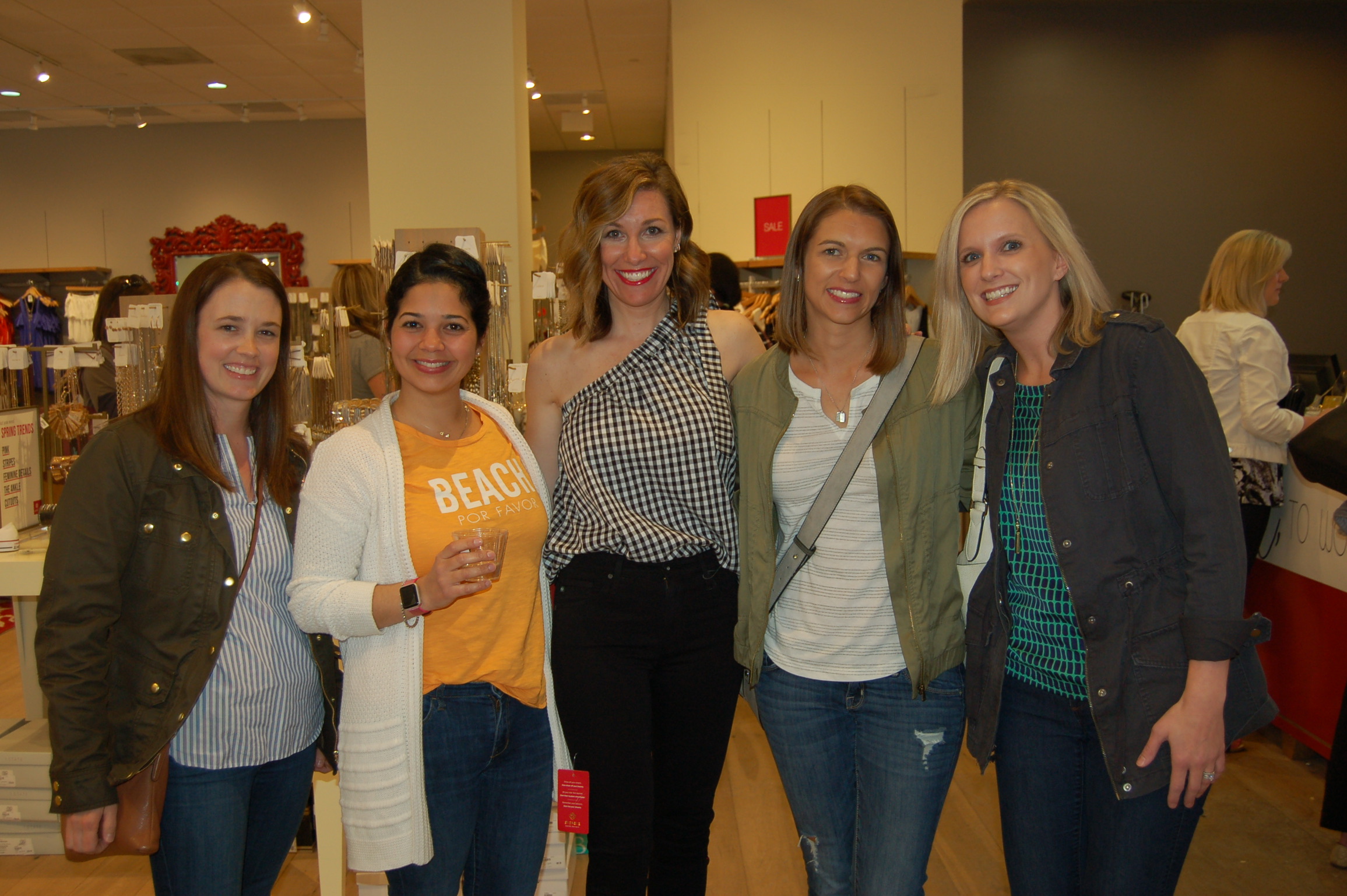 #MomTribe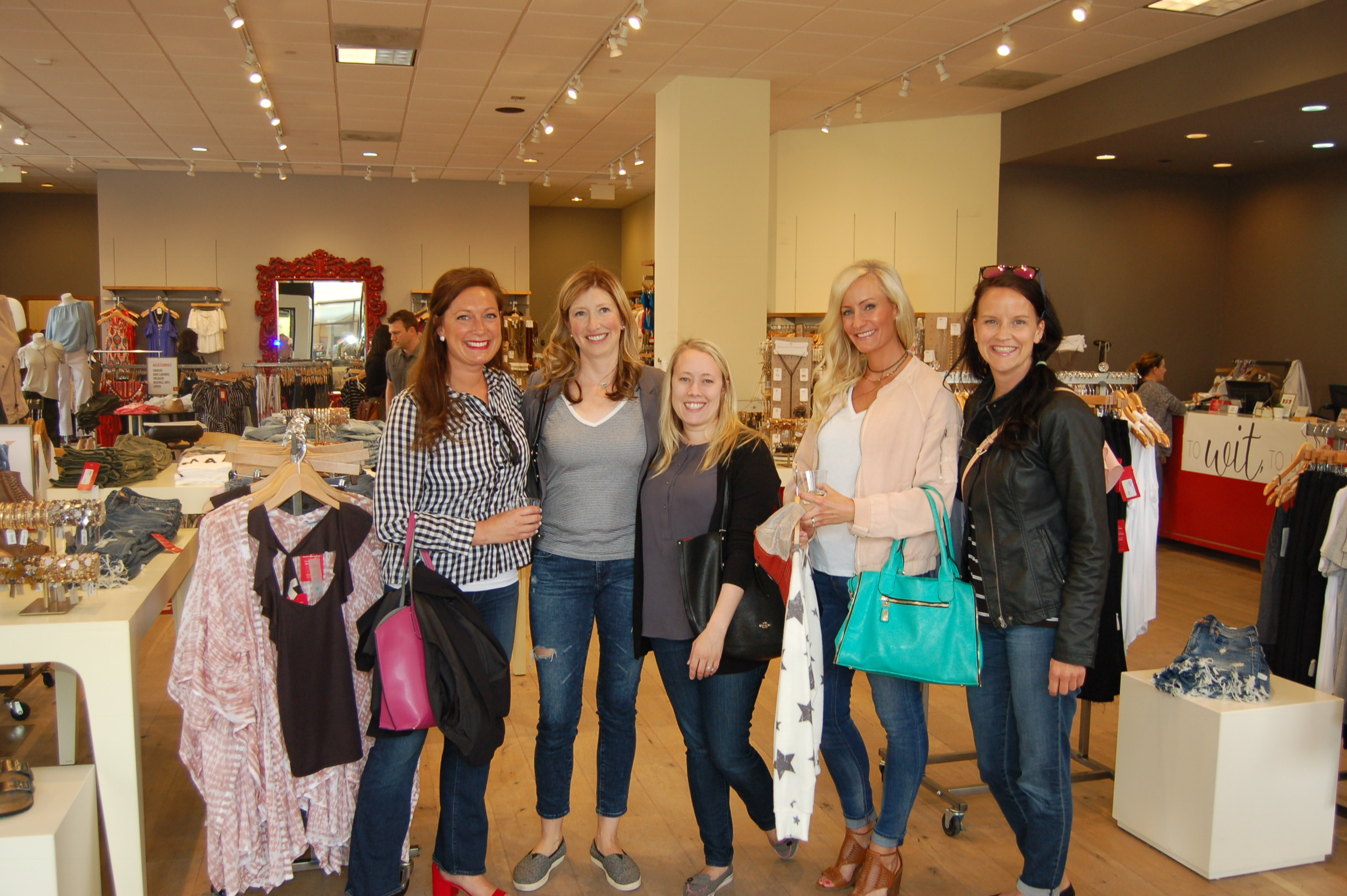 We decided to have the party over 3 hours instead of 2 this time, and I'm so glad we did because it really allowed me to spend more one-on-one time mingling and styling. And drinking and spending money, but that comes with the territory.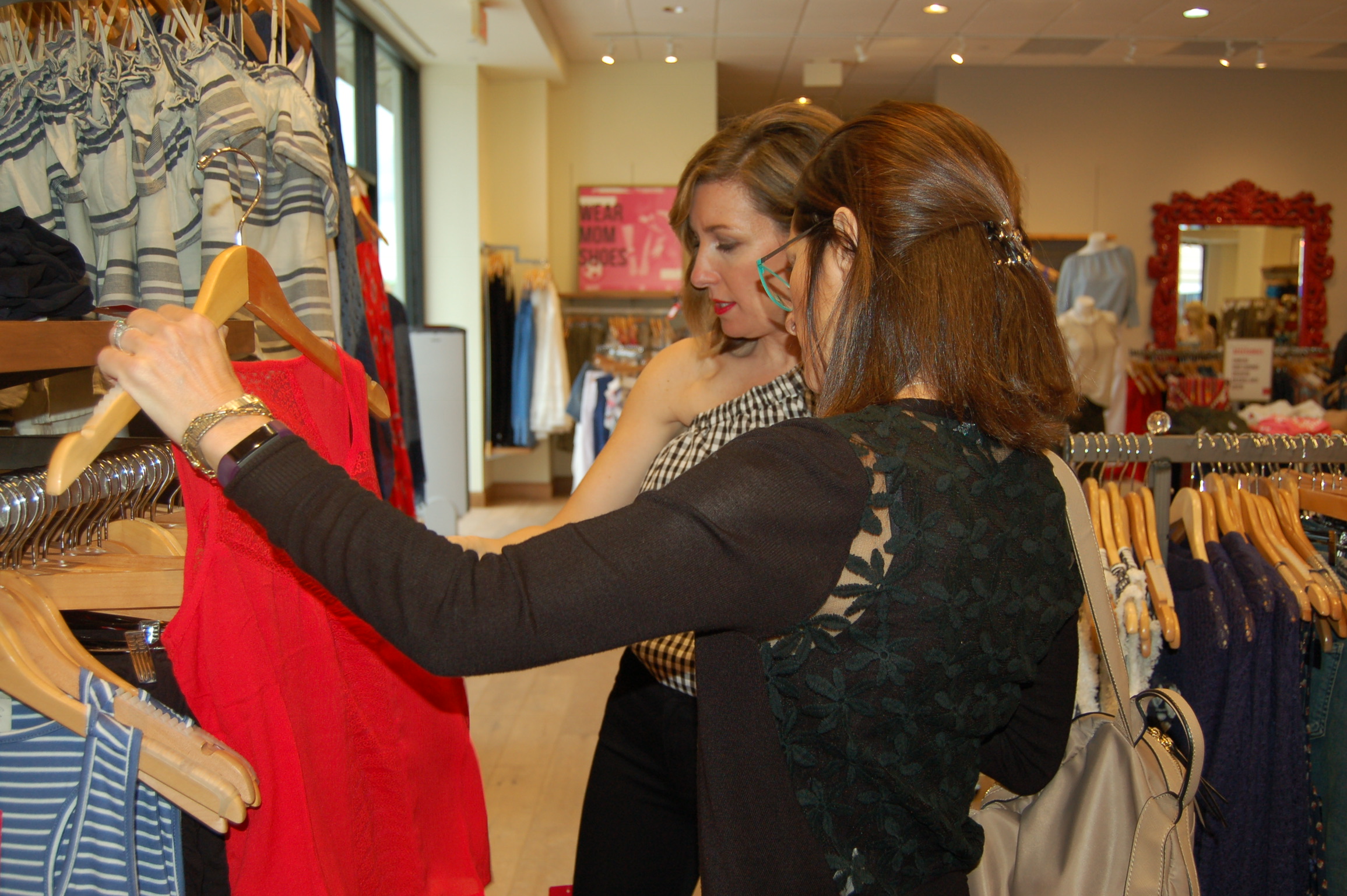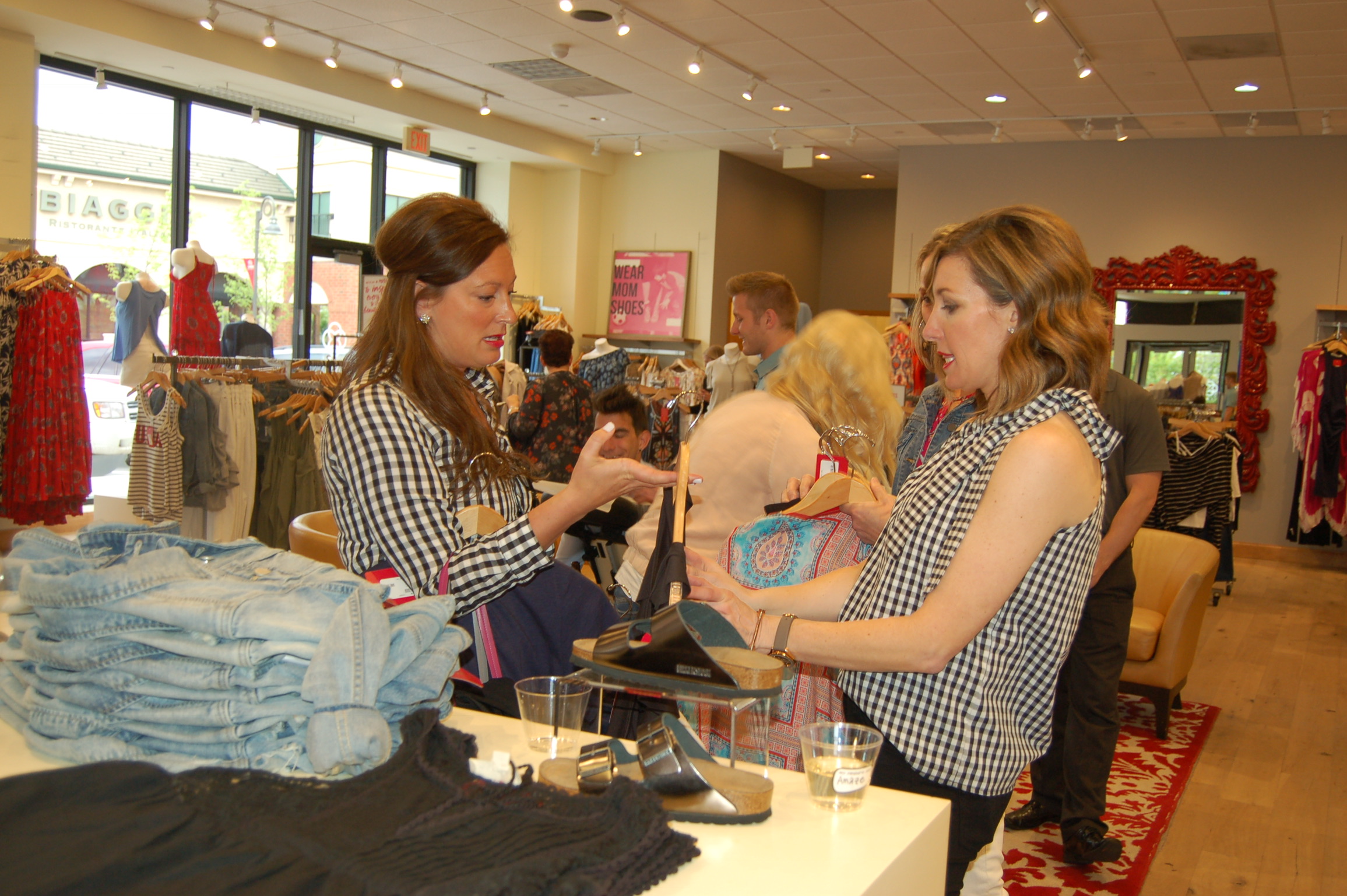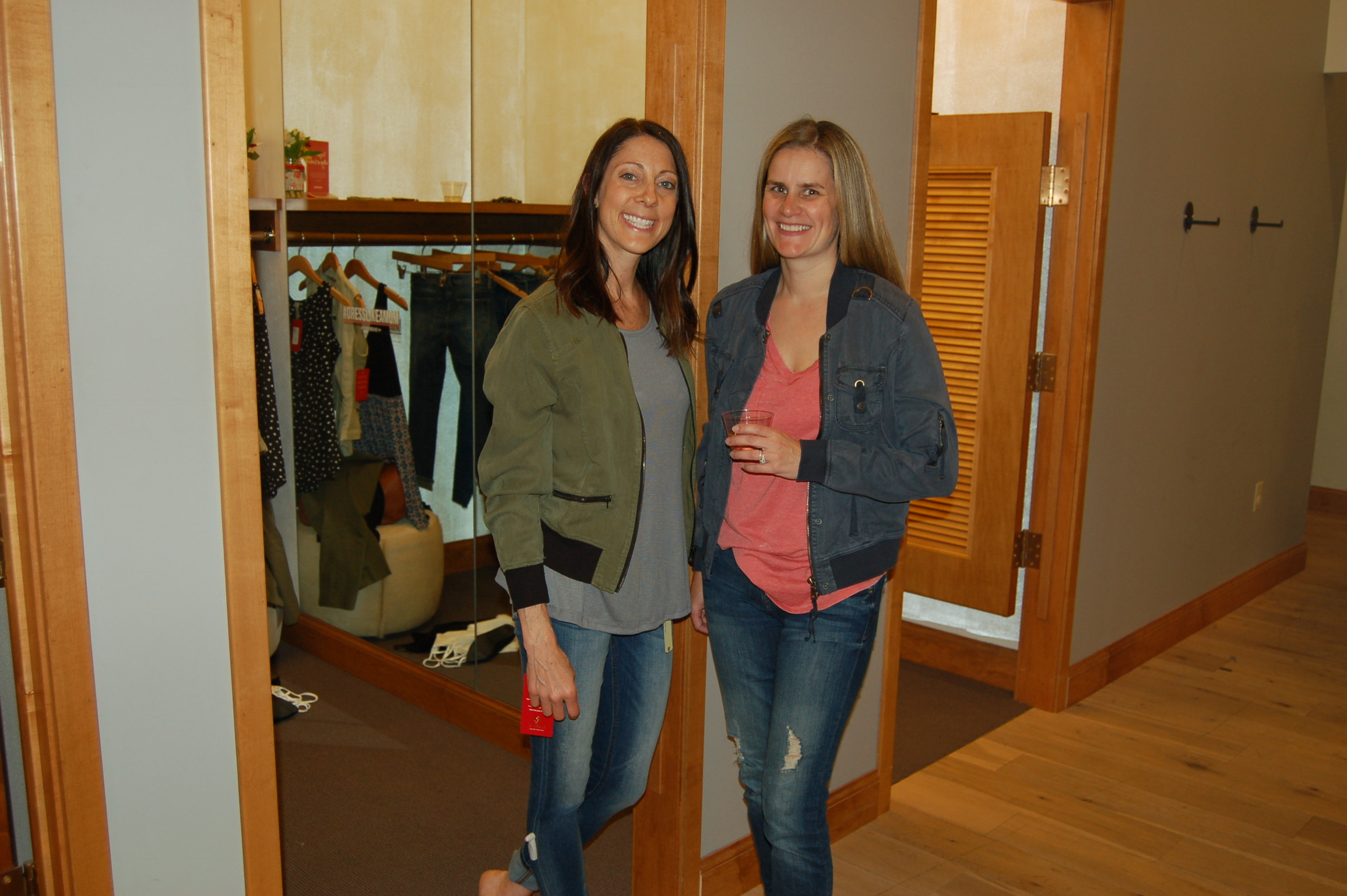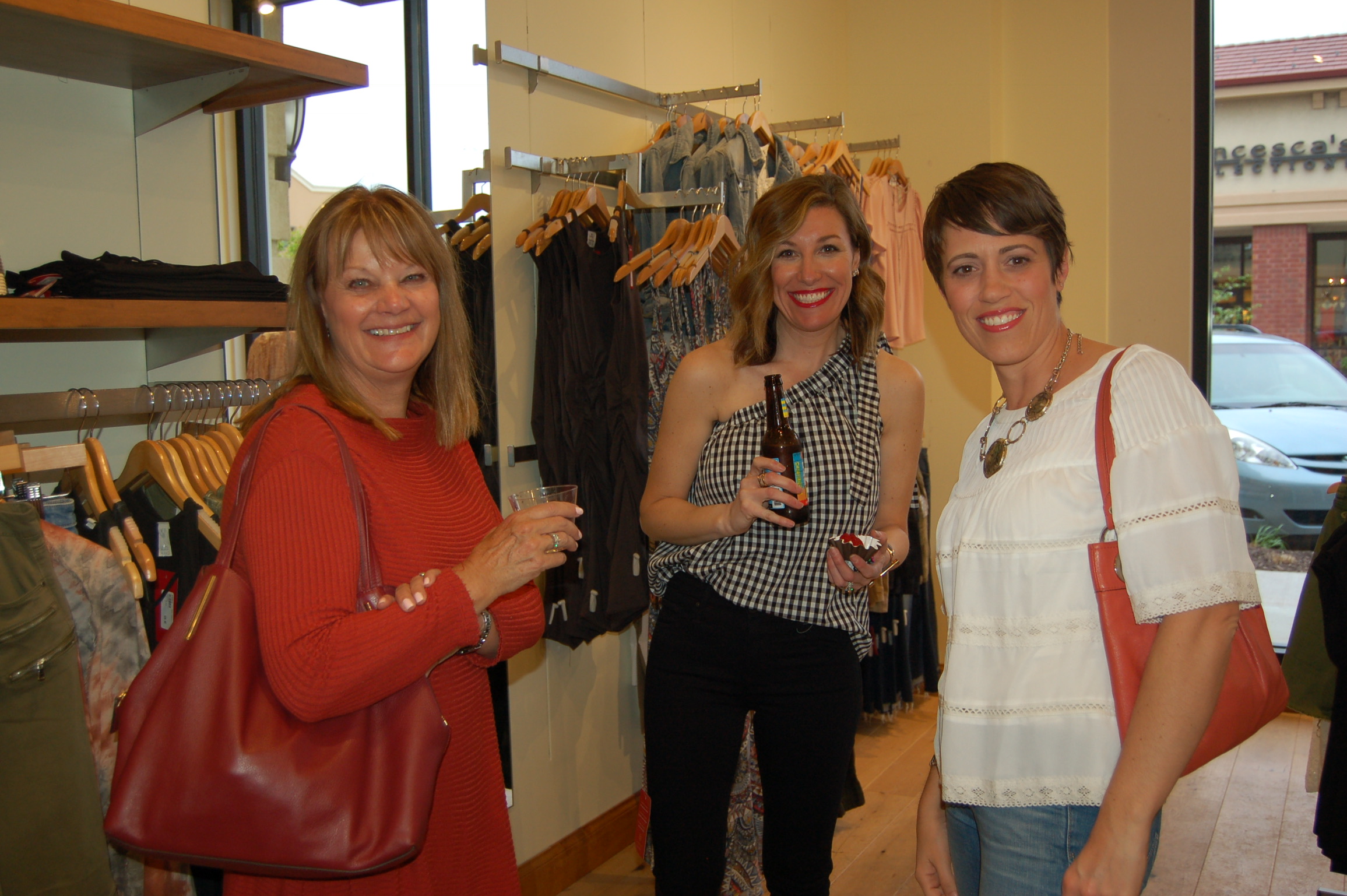 Recognize these beautiful models from my last Twin Cities Live appearance? Speaking of which, tune in on June 27th to see 3 ways to wear a kimono and which style to choose for your body shape. To my short friends: yes, you can wear them you just have to find the right style! In other news, I don't know why I'm surprised I gained 8 pounds since my last Dr's visit 6 months ago considering I was crushing Bundtinis from Nothing Bundt Cakes in the corner all night long. Just. Can't. Stop.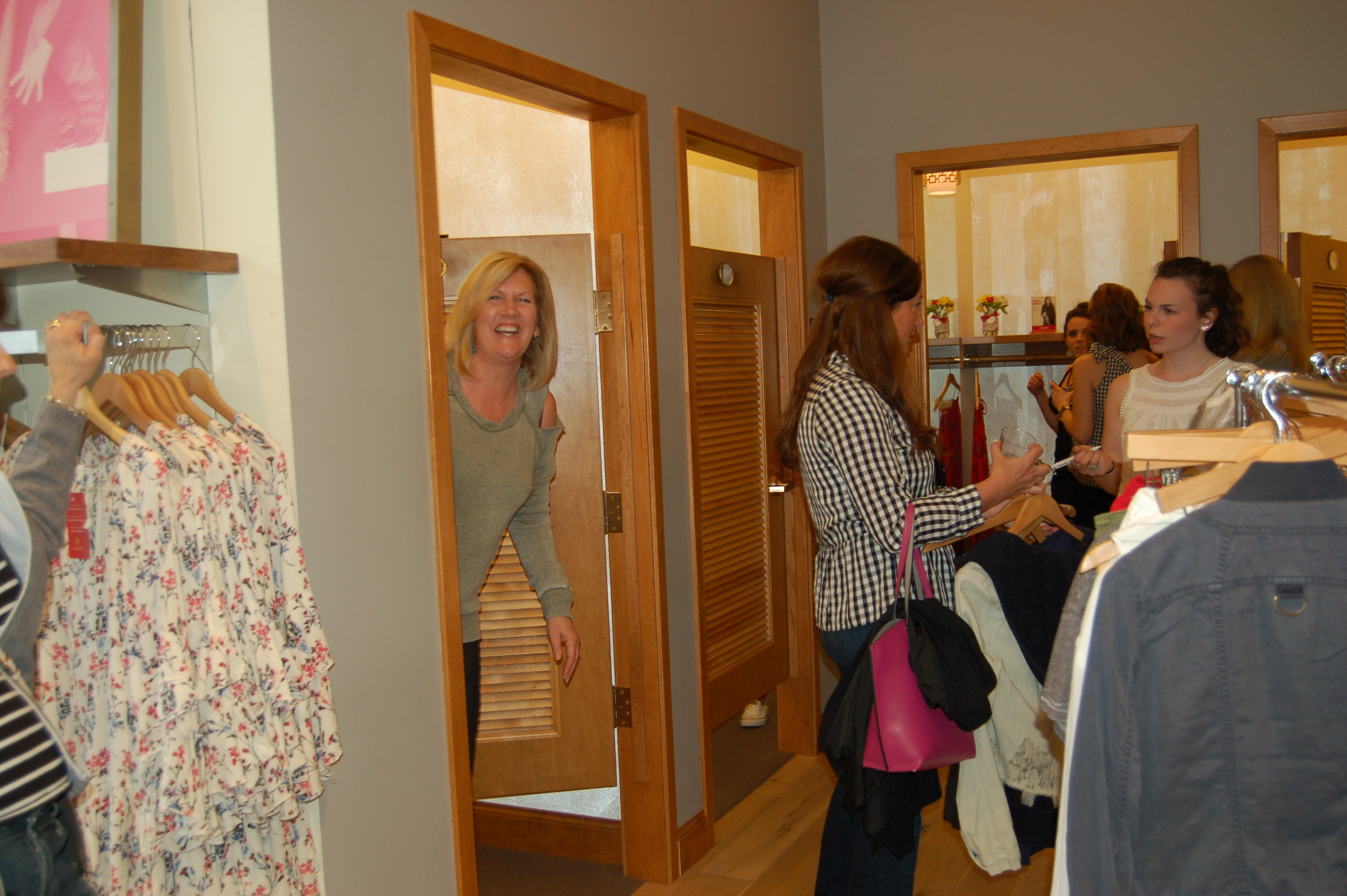 This may have been Aunt Cathy's first time shopping at Evereve, but her face tells me it won't be her last. To be expected!
I've said this a 100 times before, but Evereve isn't just about the clothes, it's about the experience. The stylists at the Maple Grove store have become a part of my tribe – I adore them!
Stylist Nikki's Maxi: Tiare Hawaii 'Emberly'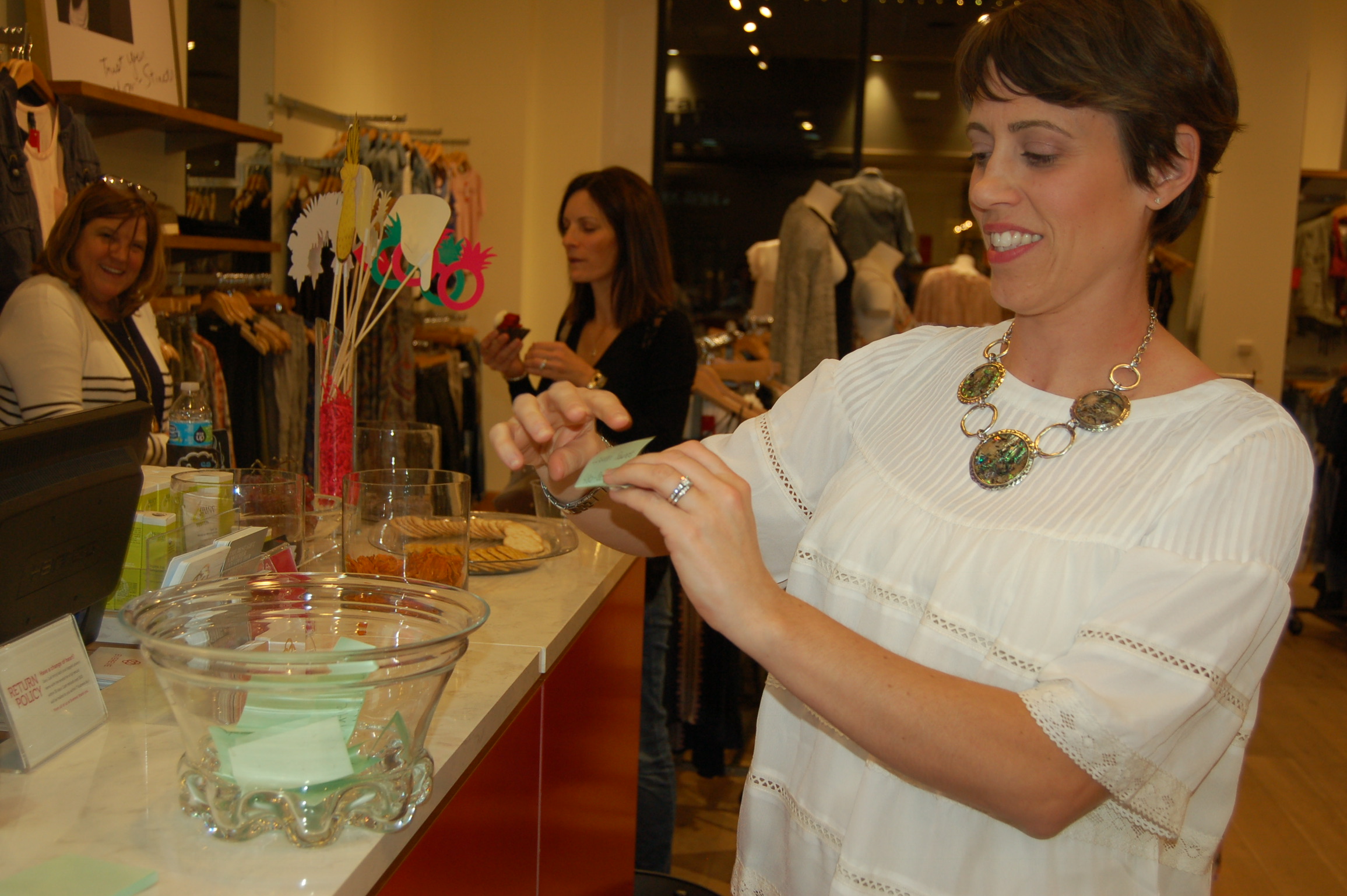 We closed out the evening with a drawing to win one of the following FAB prizes:
A very generous gift card and goodies from the Woodhouse Day, Spa Arbor Lakes. If you haven't gone yet, you are missing out, MN Friends!
1 month unlimited classes at Pure Barre in Maple Grove. I have zero core strength or coordination, so I wasn't surprised how ridiculous I looked doing it, but I had fun and the only person judging me was me, myself, and I!
A private class for up to 10 ladies along with wine and cheese at the studio afterward also from Pure Barre in Maple Grove. You had me at wine afterward…
To enter to win you had to register (or already be registered) on Be The Match. There are currently 12,000 patients with life-threatening illnesses waiting to find a bone marrow donor. My hope is that someone in this circle of influence will be able to pay it forward on behalf of my 7 year old niece Launa –  who I'm happy to report is 55 days post-transplant and doing AH-MAZING! Without the stem cells from a complete stranger in the UK, the Dr's said there was a 100% chance her MDS would have metastasized into Leukemia. That was all I needed to hear in order to take action and join the registry. Congratulations to the winners Kelly Sims, Sam Mehlhaff, and Lauren Sowards for also taking the first step to being someone's cure!
In addition to my tribe at Evereve – Arbor Lakes, a heartfelt thank you to Amy at the Woodhouse and Andrea at Pure Barre for partnering with me to raise awareness for such a worthy cause. It's small business owners like this that play such a critical role in our communities. #shoplocal
XO,
Amy