There's so much planning that goes into the holiday season that sometimes what I'm going to wear for each occasion doesn't even make it on my to-do list, which obviously adds to my stress levels. It's inevitable that I'll be upstairs changing into my 3rd outfit while my husband and children are in the car honking because we are already 10 minutes behind schedule to get to wherever we need to be. Another 5 minutes later and I'm running out with my shoes and coat in hand sweating and cursing everyone under my breath, because naturally in my stress-induced state of mind it is not entirely my fault we are late. I mean, I can't possibly be responsible for getting everyone and everything ready AND get out the door on time, can I?
In partnership with Evereve, I'm attempting to get ahead of it this year!
– What To Wear When Hosting a Dinner Party –
My grandmother used to throw the most beautiful dinner parties so when I got married I decided not to register for china hoping that I would someday inherit her's. She generously gifted the set to me a couple years ago so that she could be here to watch me enjoy them instead of waiting until she passed. We both share a love for vintage inspired pieces and a good party, so this velvet burnout kimono felt like the perfect compliment to her fine china. It has a sort of presence about it as you move from room to room and the sleeves are just the right length that they won't get in the way of your hostess duties.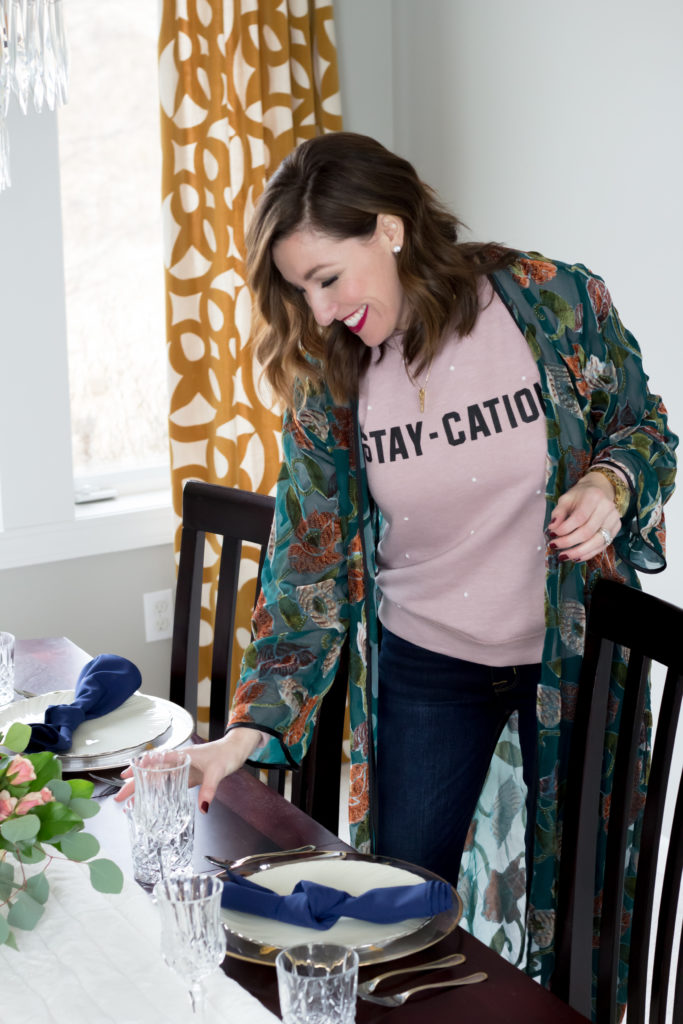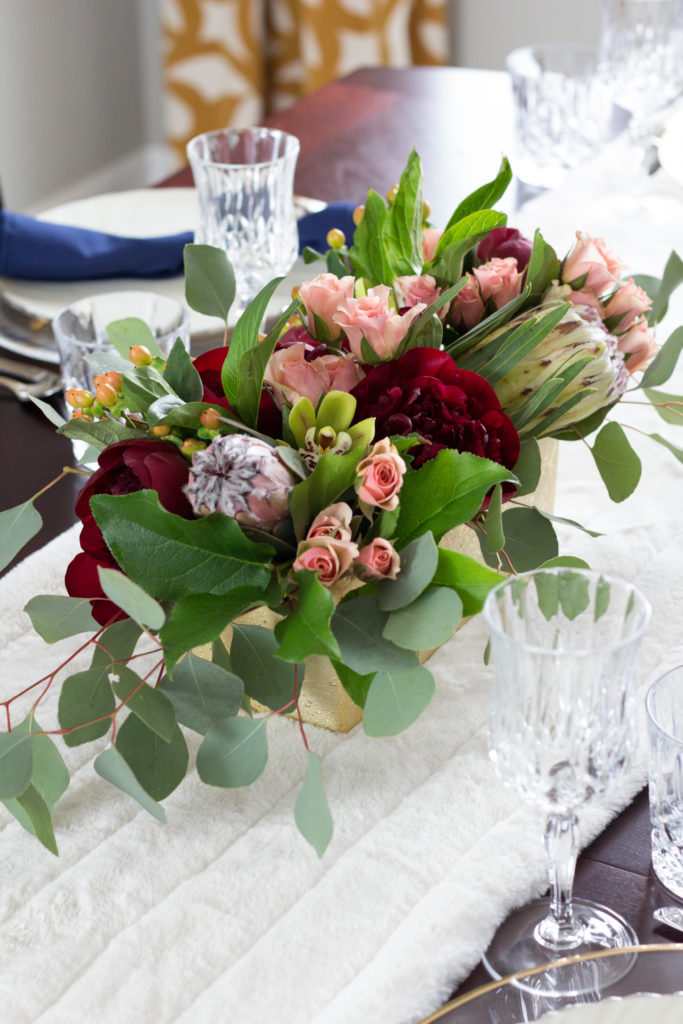 Floral arrangement made by Serendipity Flowers » Faux Fur Table Runner (Home Goods. Similar here and here in brown)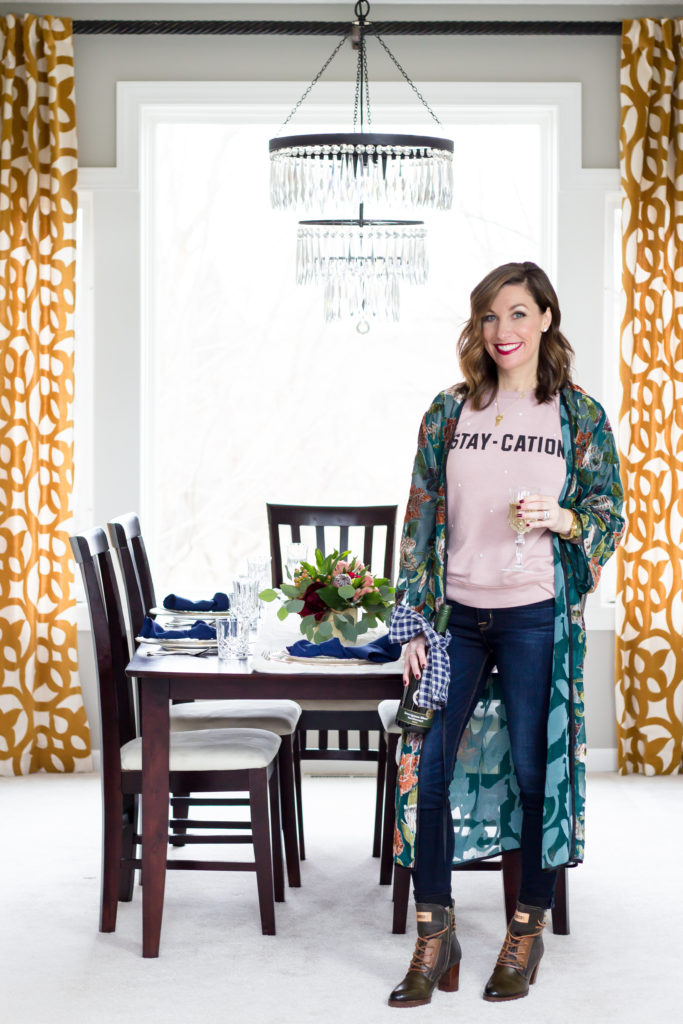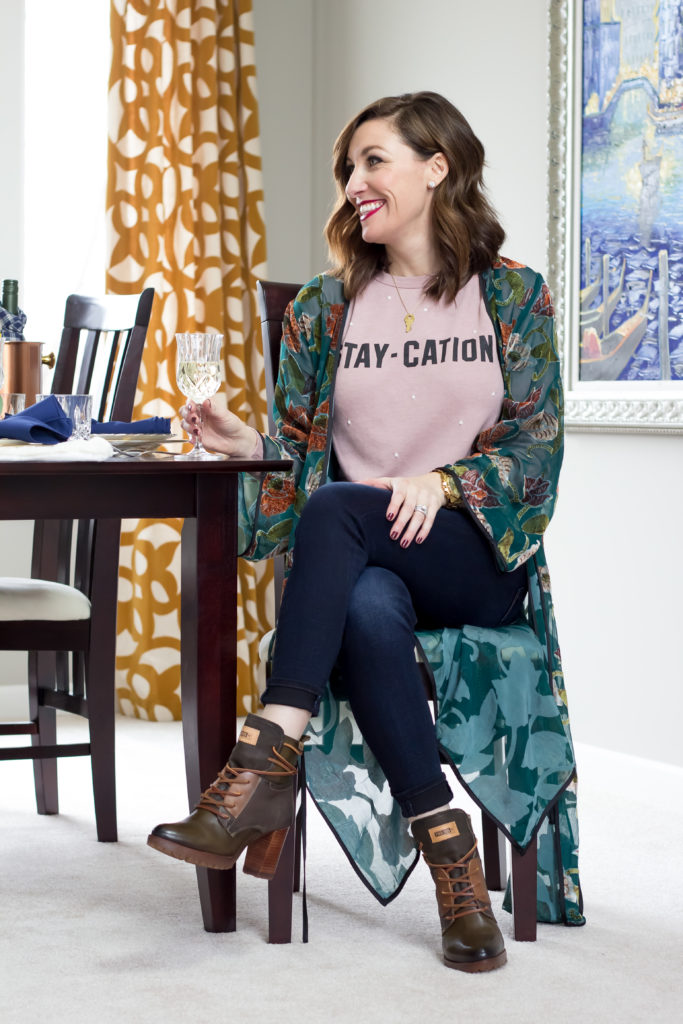 Band of Gypsies Velvet Kimono (available in select Evereve stores or online at Nordstrom)» Stay-Cation Sweatshirt » Hudson 'Barbara High Rise' Jeans » The Giving Keys Necklace 'Believe' » Connelly Bootie by Pikolinos (hands down the most comfortable booties EVA. You'll be seeing a lot of these.)
– What To Wear To An Office Holiday Party –
Whether it's a night out with your co-workers or your spouse's, it's the holidays so don't be afraid to swap out your usual business casual clothes for something a little more festive. The monochromatic blush on blush tone in this look adds an element of elegance that you may not usually bring to the office, but is conservative enough you can still look them all in the eye on Monday.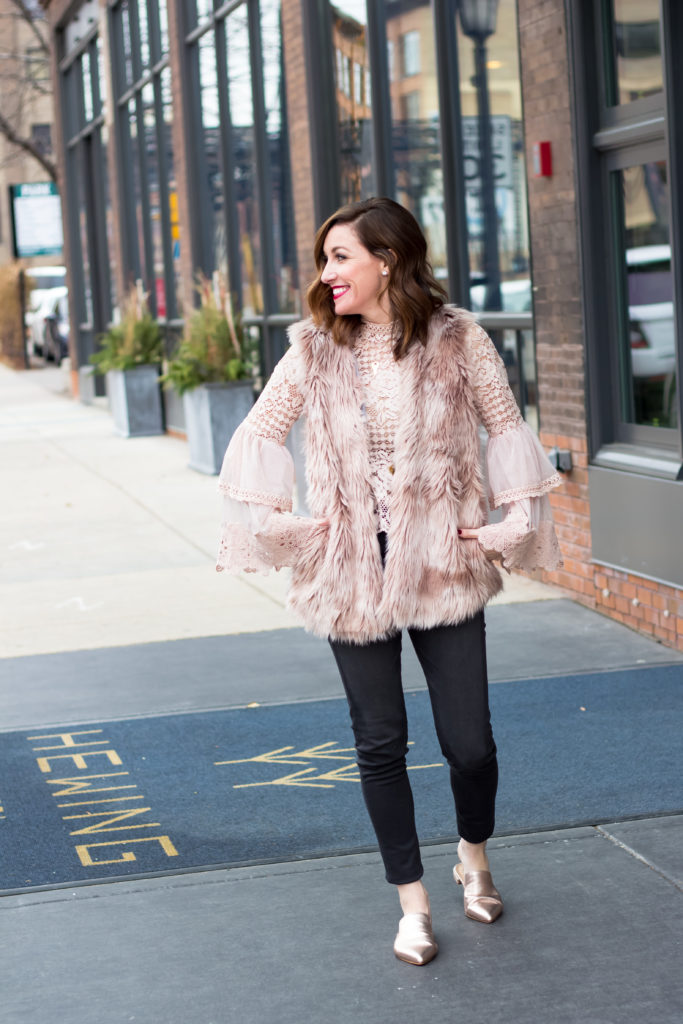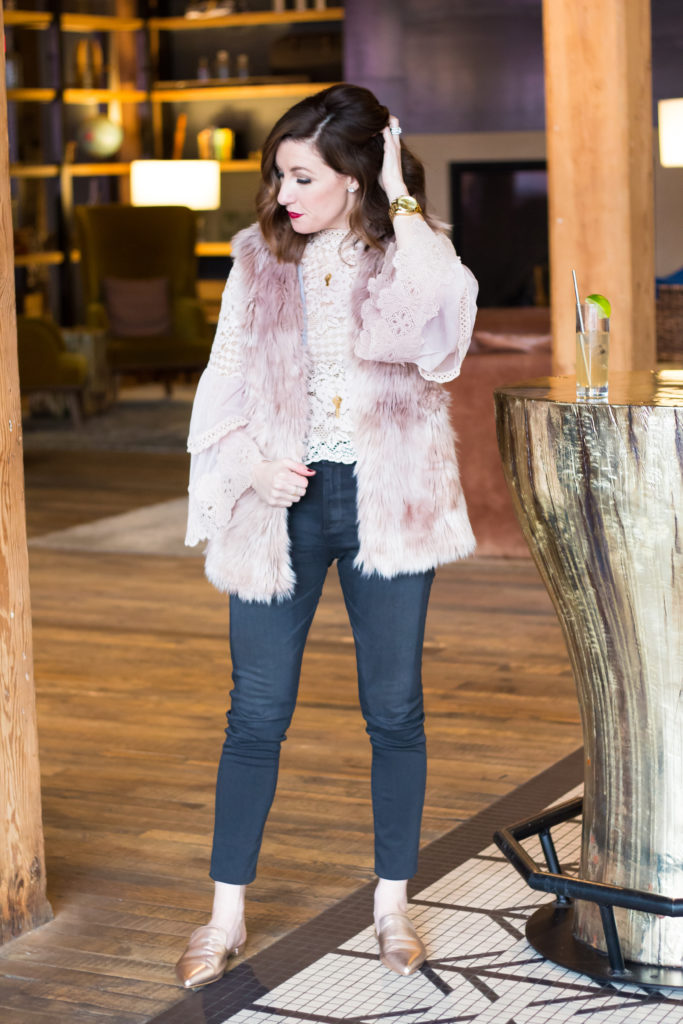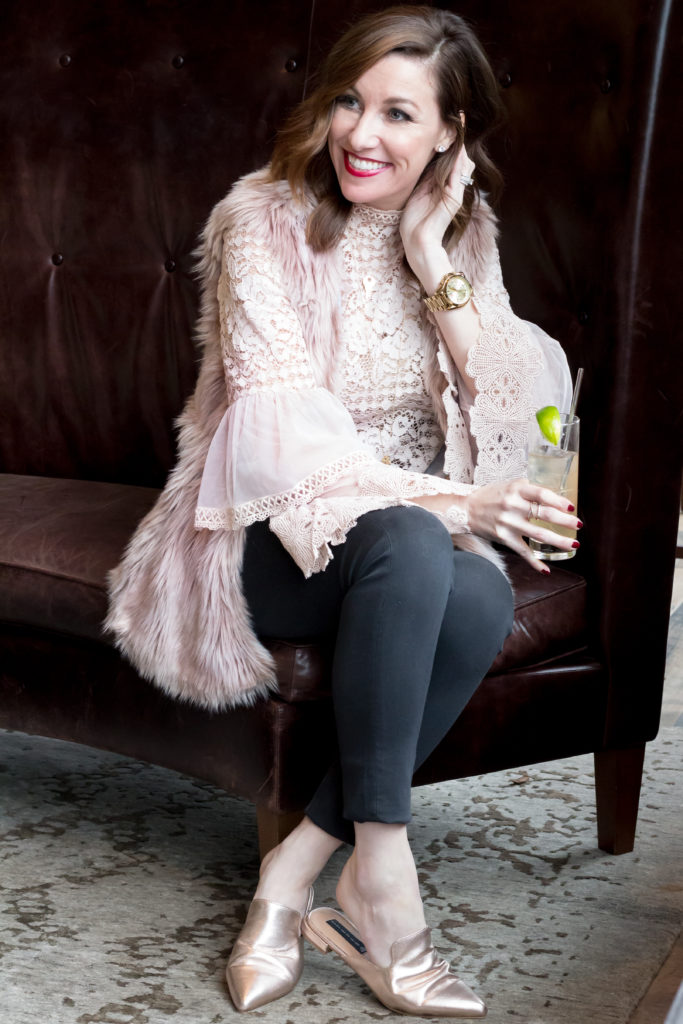 My husband looked at this pic and said, "That's not real. You know there'd never be that much vodka in your glass." #ThisIsUs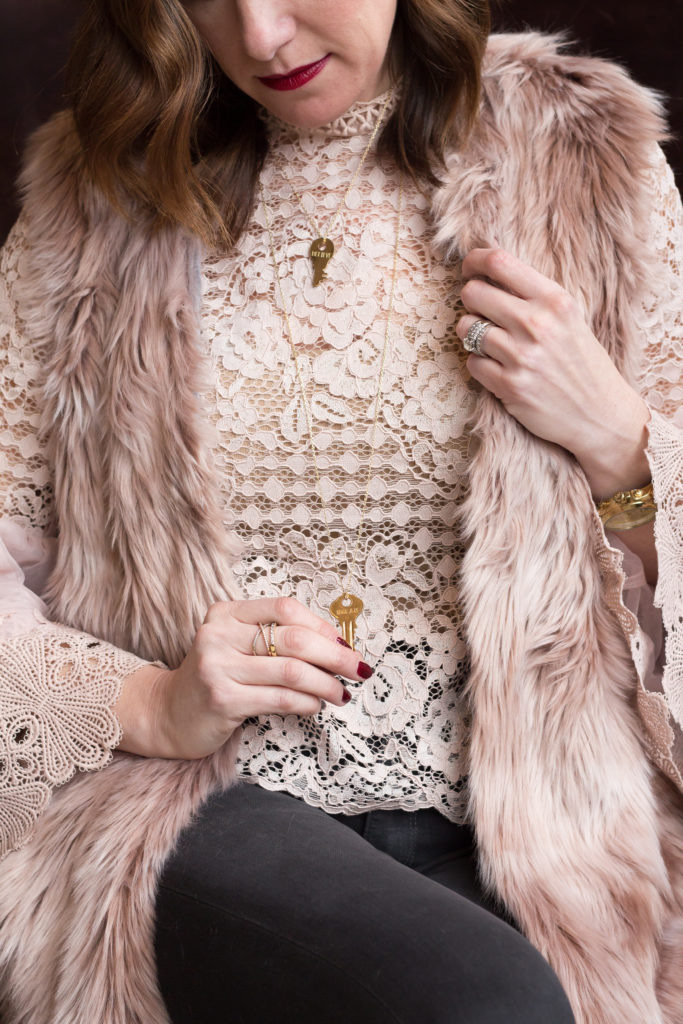 Pink Faux Fur Vest » Bell Sleeve Crochet Top » AG 'Farrah' Skinny in Greymist (AG Farrah's are my jam and this charcoal color is the perfect shade of gray that's not too light and not quite as harsh as black. I didn't have time to get them hemmed so I just folded them under for the pics.) » Valent Loafer Slide » The Giving Keys Necklace 'Dream' (I love a gift with a purpose and an inspiring message. These make the perfect stocking stuffers or gifts for your #MomTribe)
– What To Wear On New Year's Eve –
Some of my favorite New Year's Eves have been the ones where we would get all dolled up and go out to a fancy dinner with a group of friends and then spend the rest of the evening at someone's house dancing and playing drinking games. I think we need to work that back into the every other year kid-free rotation. This look has the all the makings of a momentous NYE party with the leopard, fur, lace, and shine in a very tasteful way. Speaking of tasteful…we used to throw the best Jersey Shore theme parties back in our newlywed days. Oh to be young, wild, and kid-free…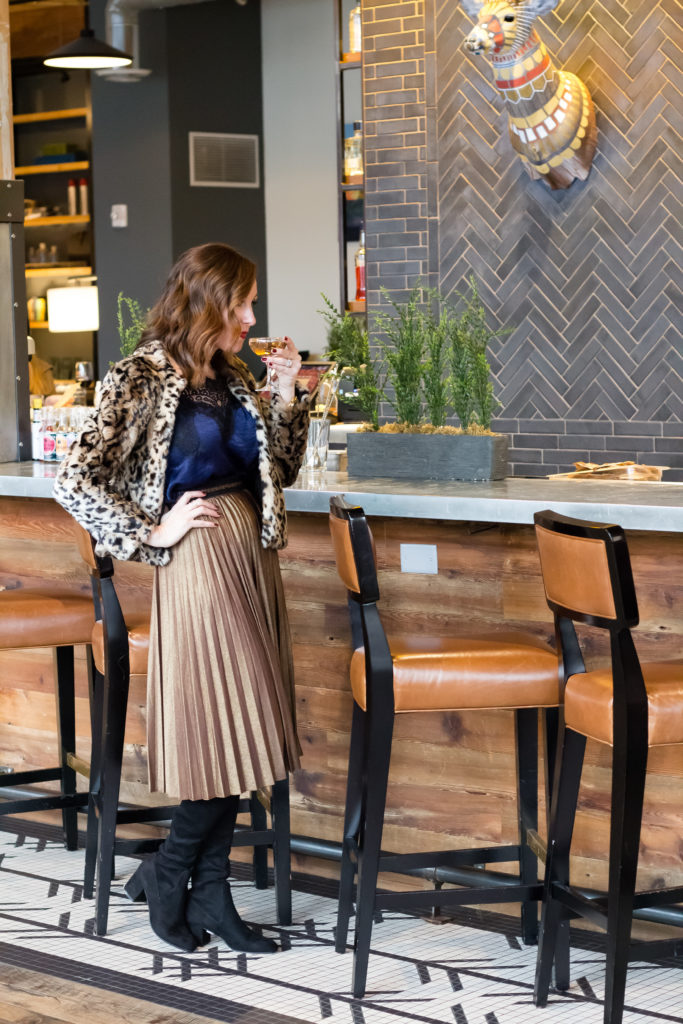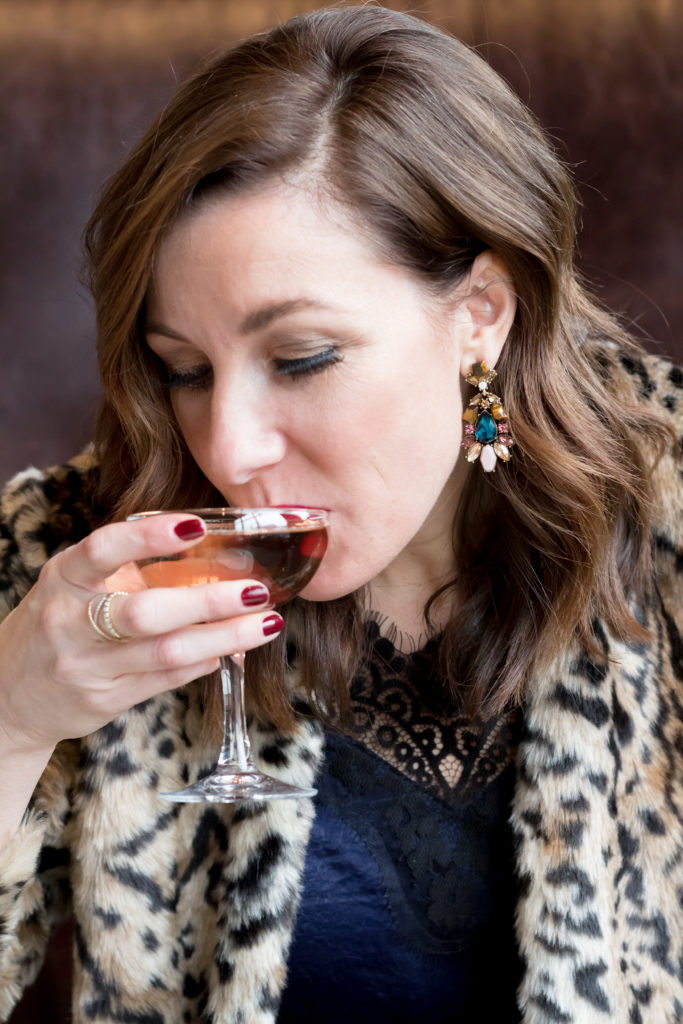 "There's the woman I know and love!" my husband said in a very endearing tone.
BB Dakota Leopard Faux Fur Jacket » Satin Swing Cami (swap out your basic black for this rich navy and black combo to give any outfit a little something extra special) » Shine Pleated Midi Skirt » OTK Steve Madden Boots » Jeweled Statement Earrings
Thank you to Evereve for partnering on this post! As a mom it is hard enough to find time to shop alone so when you have to bring your kids you want to find everything you need in one place – preferably one with toys, snacks, and a bathroom with extra wipes in case you forget yours → ME.
MN Friends, join me on November 28th from 6:30-8:30 for a Style Social at the Evereve West End location to get the most important part of planning out of the way: your holiday looks! Enjoy a 15% discount off your entire purchase, wine, Nothing Bundt Cakes (c/o Maple Grove), more wine, and a brief style show where I'll be highlighting my favorite statement pieces styled multiple ways so you can mix and match all holiday season long!
Cheers,
Amy
Photos taken by my talented friend and photographer Amy Hughes Photography