I'm a big fan of the kimono and have been for years.  There's something about the way the fabric floats behind you when you walk that makes you feel like you are somebody, you know what I'm sayin? This year in particular they seem to be everywhere with more styles to choose from than ever before. If you don't own one already, here is why you need one:
They can be worn almost anywhere: an outdoor wedding, music festival, running around town, date night, a swimsuit cover up, or even to the office!
It's the perfect way to hide your trouble areas like arms and legs during the summer months.
It's your summer Power of 3 that will take any basic staple like jean shorts and a tee to the next level.
− Look Number 1 −
Barbie is so tall and gorgeous the girl can literally wear anything! This particular kimono she's modeling is more of a traditional Japanese robe style. I love how it doesn't slip off your shoulders when you are hauling kids around on your hip.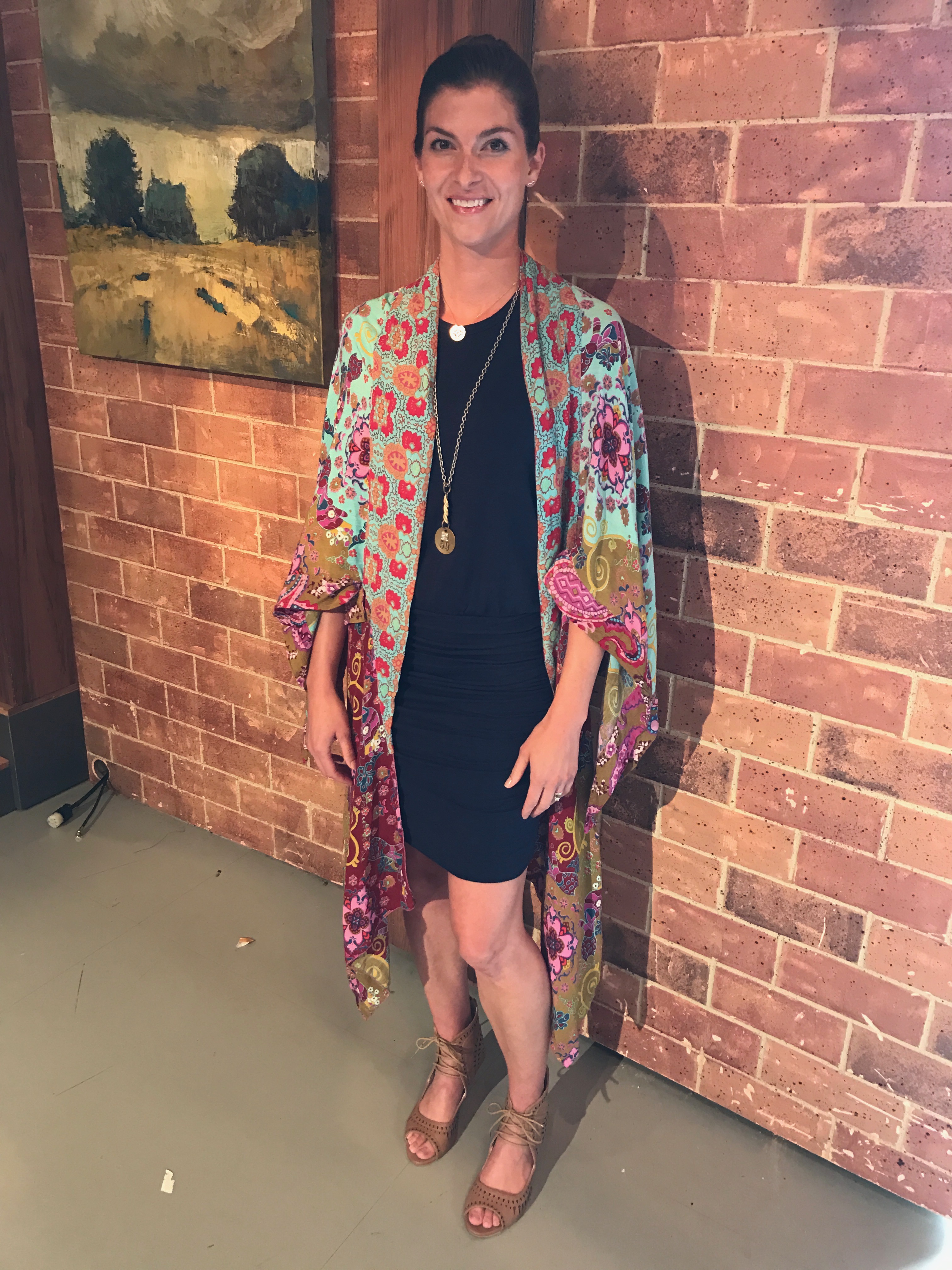 Nobody does boho chic like Free People: the colors, the way the fabric drapes, this fun back cutouts…there's so much to take in!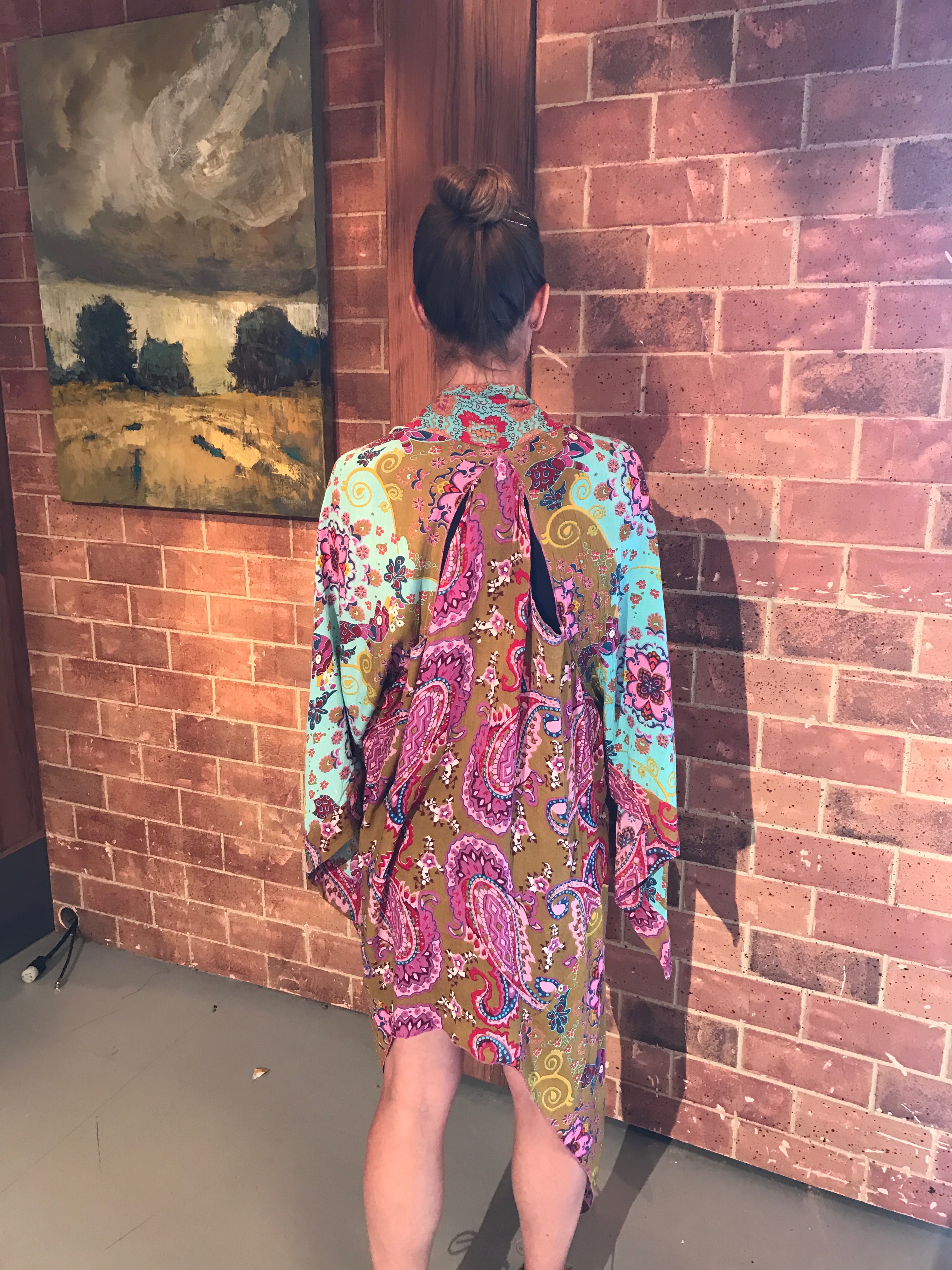 Kimono: Free People 'Little Wing Mix Print' (comes in a plum color, too. Also love this one for only $24!)
Dress: Sundry 'Uptown Scrunch' – Evereve (at first I cringed at the $98 price tag, but I've been wearing the heck out of this Michael Stars one for the last 2 years so I know I'll get my money's worth since it's a similar style. I also really like this one for a casual summer day with a pair of sneakers.)
Necklaces: c/o Flaunt Accessories (the longer necklace is made by a local MN designer that turns vintage pieces into jewelry. My mom ended up buying it she loved it so much!)
Shoes: Exact pair is from Nordstrom Rack – no longer online. Similar to these Jeffrey Campbell's or these Dolce Vita's
− Look Number 2 −
This is my beautiful mother, Brenda! I'm pretty sure this is the first time I've shown her face on the blog. I'm kind of sad to see our running joke come to an end, but showbiz was calling her.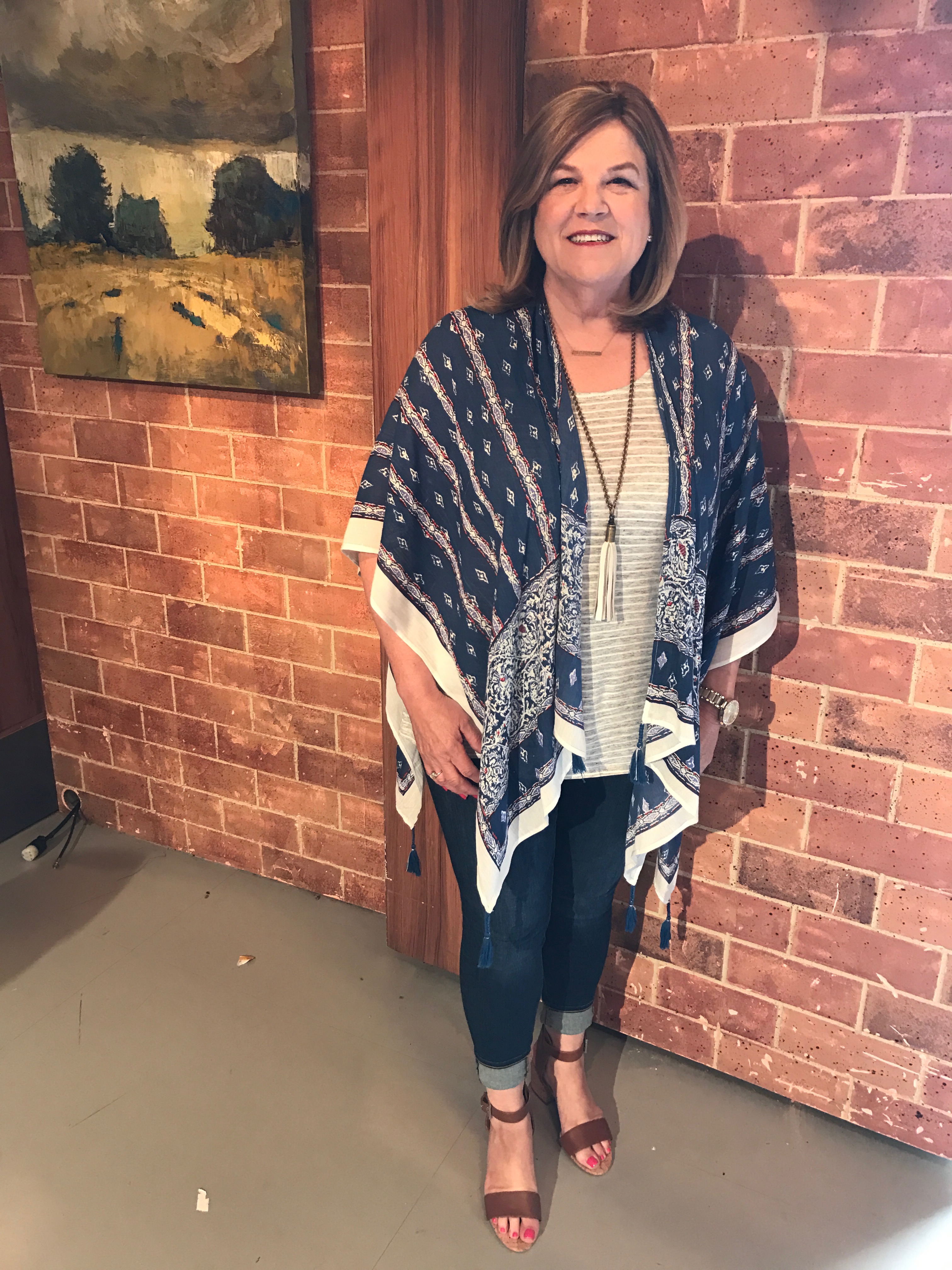 Side note: I have no idea what weird setting I had my phone on that made their faces look like paintings in these photos. I did my mom's makeup and let's just say I am not that skilled.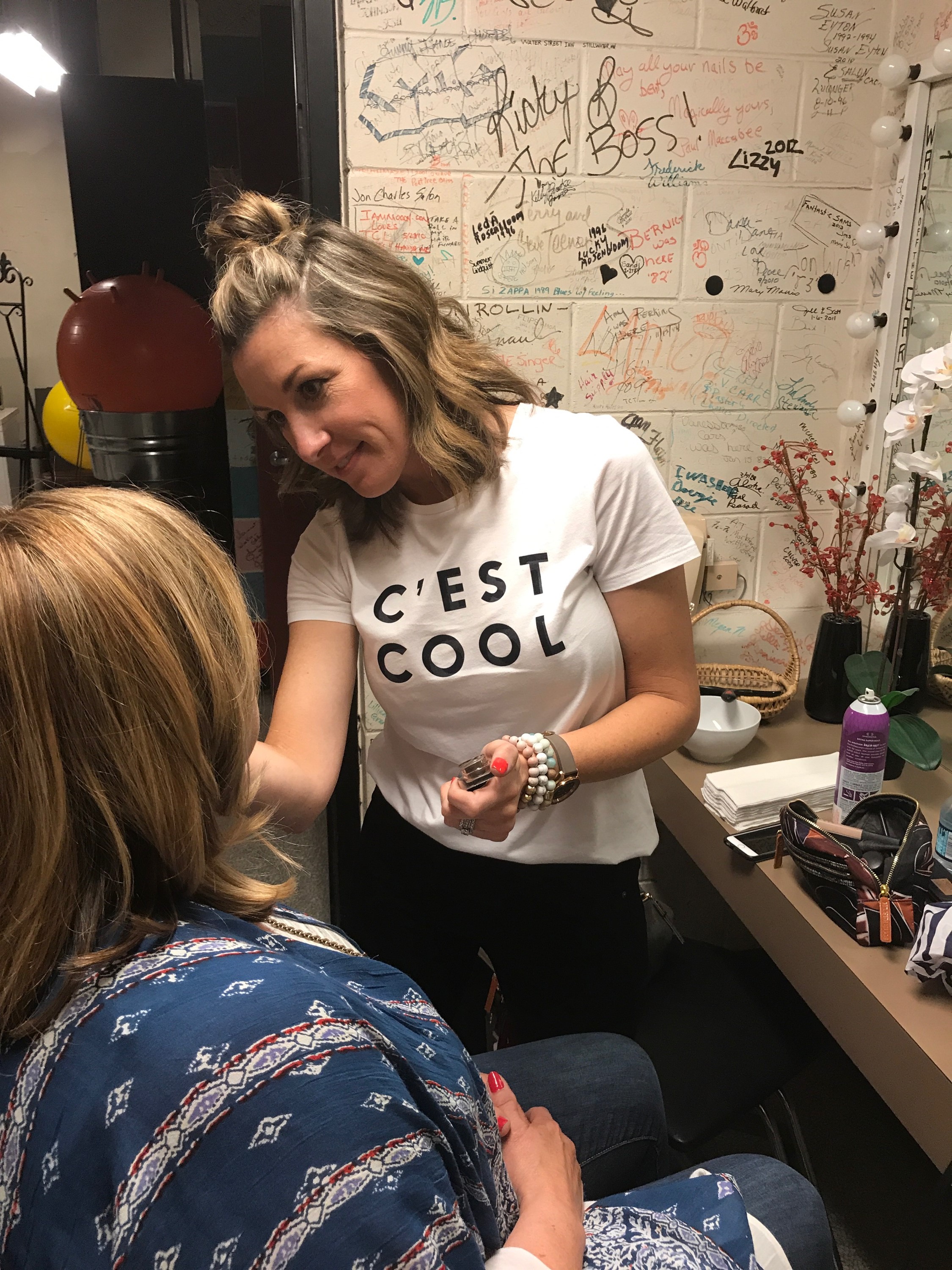 Kimono: Vince Camuto 'Topper' – Nordstrom Rack (If you are curvier look, for an asymmetrical hem line that comes to a point to slenderize and elongate. I had actually bought this for myself but I'm letting my mom keep it because she looks amazing in it and for only $16.97, I figured she earned it. Also like this one)
Tank: Banana Republic 'Linen Stripe'
Jeans: Gap 'Mid-Rise True Skinny'
Shoes: Franco Sarto 'Melody'
Leather Tassle Necklace: c/o Flaunt Accessories
− Look Number 3 −
My friend Kara is only 5'2 so when I asked her to model a kimono her initial response was, "I look terrible in kimono's!" I promised I wouldn't make her look bad though so she agreed. Nailed it, right??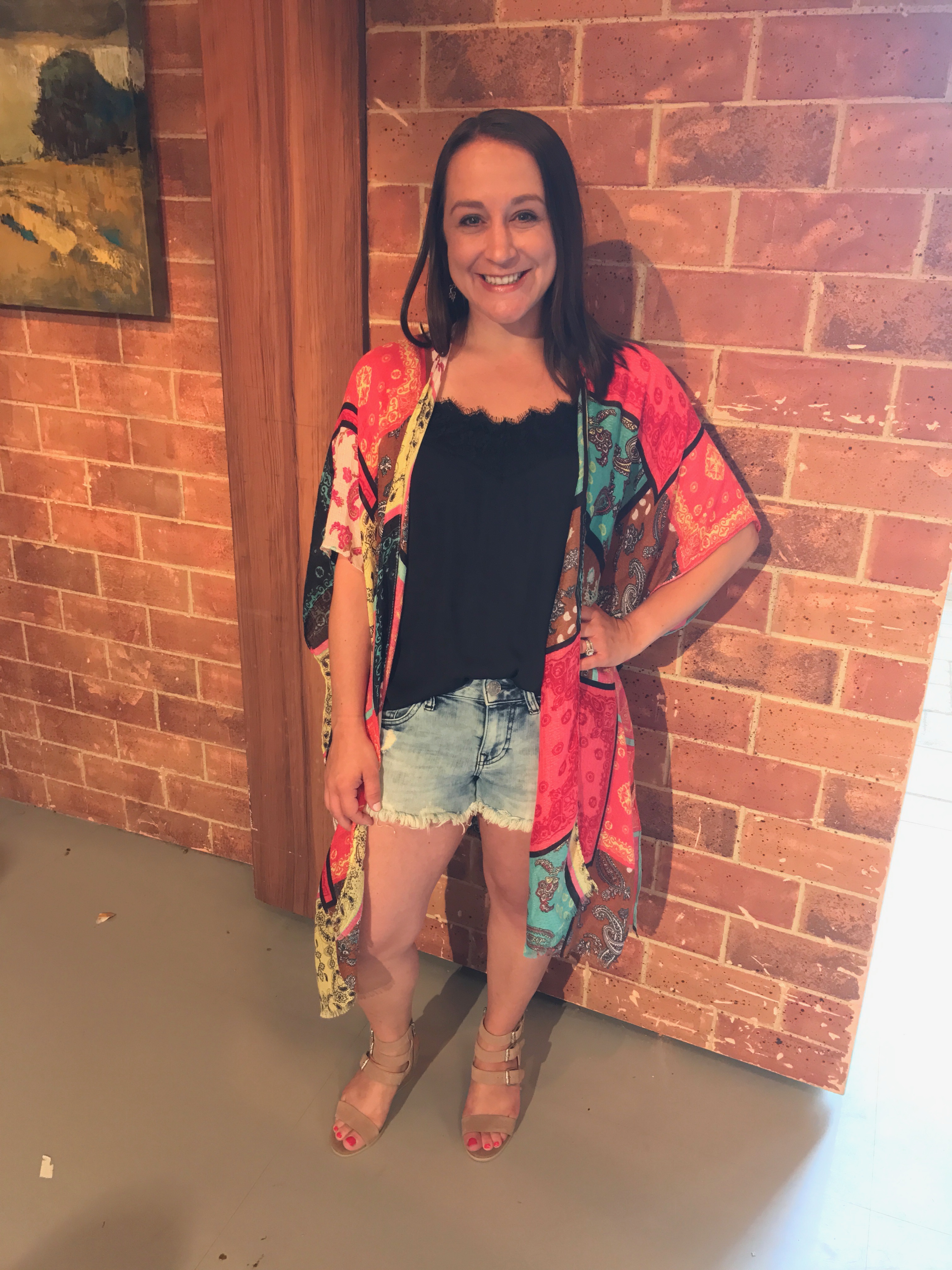 Kimono: Free People 'Voodoo Child Patchwork' (If you are petite, look for ones with a short sleeve to offset the longer hemline which will keep you from looking like you are being swallowed by yards of fabric. You could also do a longer sleeve if the hemline hits at the waist like this one. Also love this one)
Cami: Who What Wear for Target (sold out, similar here for under $20)
Jean Shorts: Express (old, similar here)
Wedges: Dolce Vita 'Lindsi Open Toe'
Tassle Earrings: c/o Flaunt Accessories (similar here and here)
− My Look −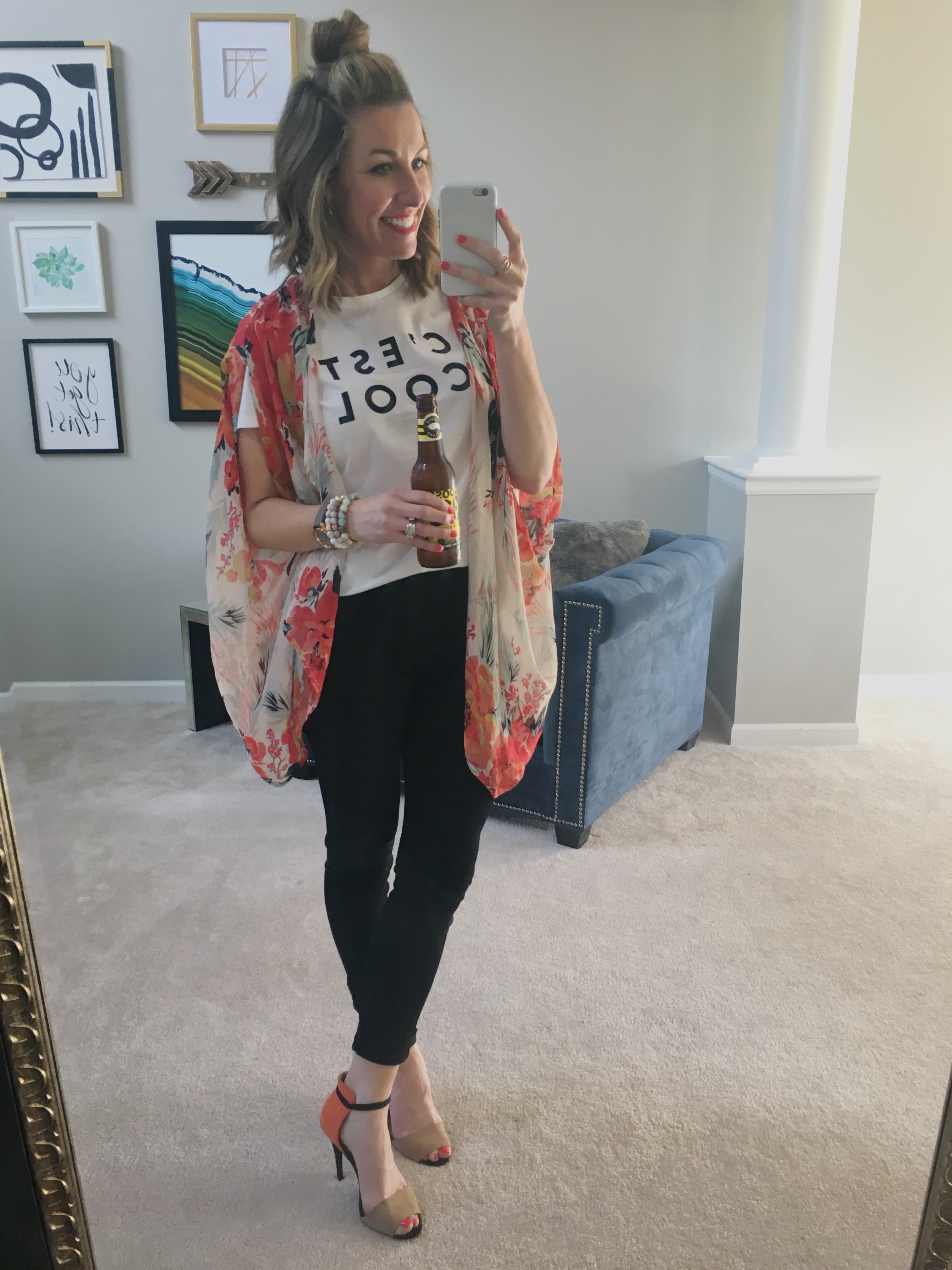 Kimono: Winter Kate (old, but loving this one)
Tee: Banana Republic (It's SUPER soft and holds its shape. Highly recommend.)
Jeans: AG 'Farrah' High Rise (yep, still obsessed with the fit of these)
Heels: Zara (old, might be able to find them on Poshmark or Ebay. Sort of, kind of similar here and here)
Lips: Lipsense by Jenny in 'Rhubarb'
Jewelry: c/o @FlauntAccessories (I loved the earrings and bracelets so much I ended up keeping them both)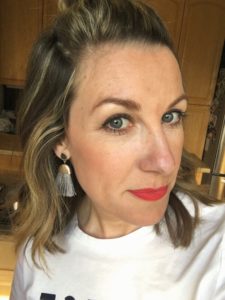 – Bonus Look –
This is my 88 year old Grandma Edie showing you how you can rock a kimono at any age! She's pretty fab.  Also, this is where Carter gets his curls from in case you were wondering.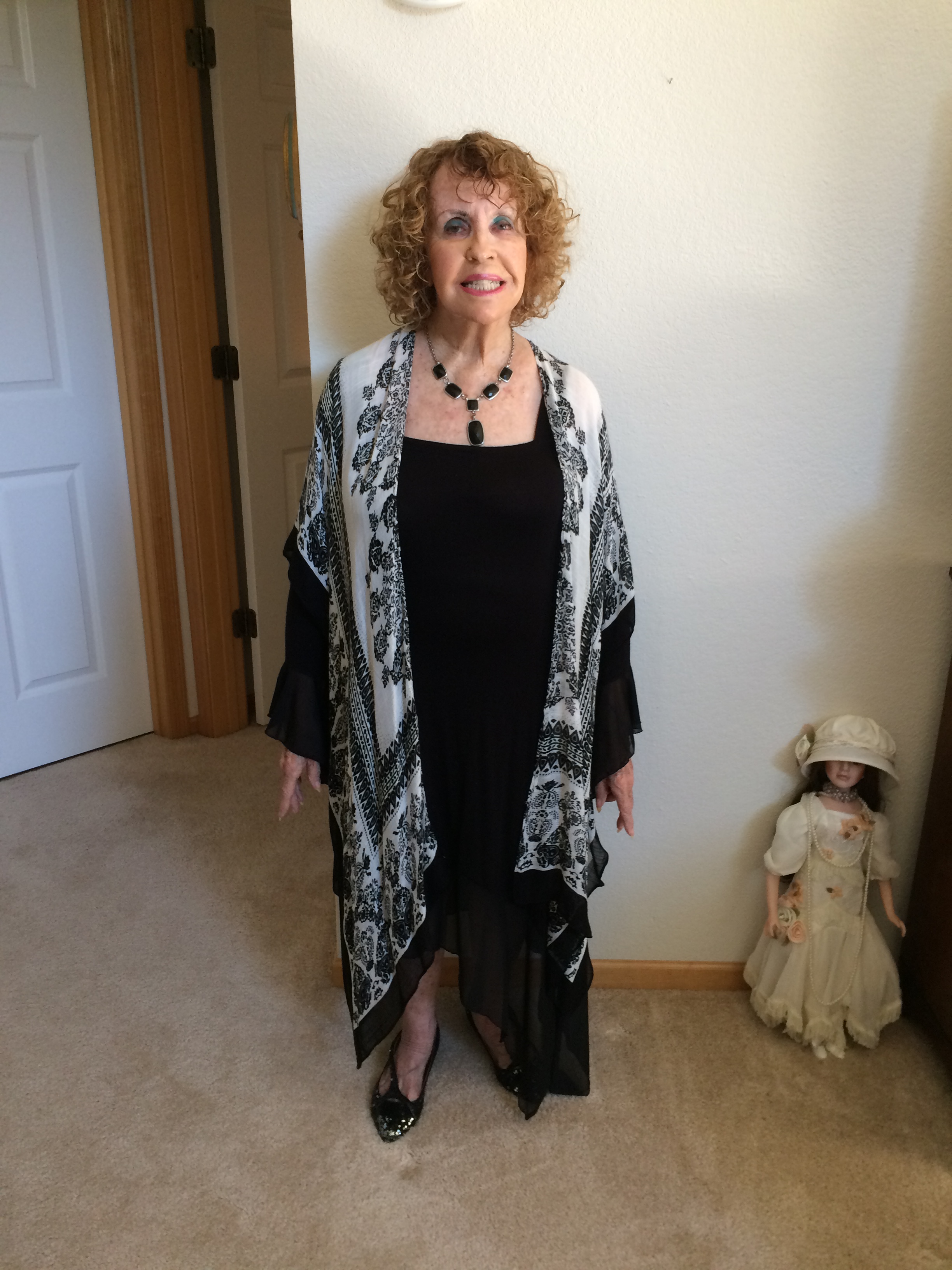 Kimono: Evereve (old, similar here)
I'll be back on Twin Cities Live on July 26th to talk about summer hats, so keep watching!
XO,
Amy